Ready to use SMS templates will reduce your time and to give effective communication for your businesses. Short Message Service (SMS) has proven to be a powerful tool for reaching customers and clients quickly and efficiently. Whether you're sending an introduction message, customer service updates, OTPs (One-Time Passwords), or promotional content, the right SMS template can make a significant difference. In this blog, we'll explore the ready to use SMS templates and ensure your messages are engaging and impactful.
List of 10 Best Ready to Use SMS Templates
1. Introduction Template
An introduction message sets the tone for a positive customer experience and can create a lasting first impression.
"Hello [Customer's Name], welcome to [Your Business Name]. We're excited to have you on board. Get ready for amazing offers and top-notch service!"
2. OTP Message Template
OTP templates are vital for user verification and security purposes. So, ensure the message is concise and easy to understand.
"Your OTP for secure login is: [Your OTP]. Please do not share this code with anyone for your security."
3. Order Confirmation Template
An order confirmation message assures your customers and provides essential details about their purchase.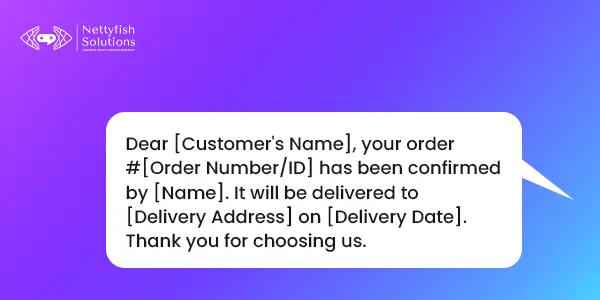 "Dear [Customer's Name], your order #[Order Number/ID] has been confirmed by [Name]. It will be delivered to [Delivery Address] on [Delivery Date]. Thank you for choosing us."
4. Appointment Reminder Template
Sending appointment reminders reduces no-shows and keeps your schedule organized.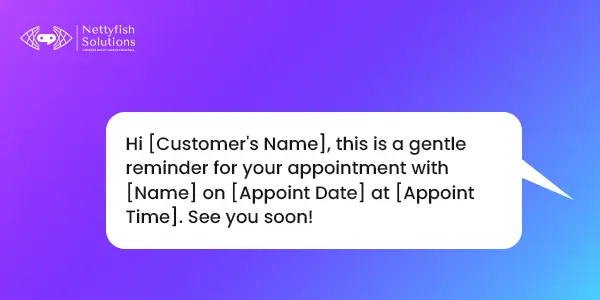 "Hi [Customer's Name], this is a gentle reminder for your appointment with [Name] on [Appoint Date] at [Appoint Time]. See you soon!"
5. Feedback Request SMS Template
Feedback helps to engage with your customers it's a important one to build trust about your business or service, and this template will encourage the participations.
"We'd love to hear your thoughts! Please take a moment to share your feedback about our service [Feedback Link]. Your opinion matters to us."
6. Special Offer/Promotion Template
Promotional message with clear offers and deadlines drive sales and customer engagement.
"Exciting Offer Use code [Promo/Offer Code] to get [Offer/discount %] off on your next purchase at [Business Website]. Hurry, this offer expires on [Expiry Date]."
7. Payment Confirmation SMS Template
Payment confirmations reassure customers and provide transparency.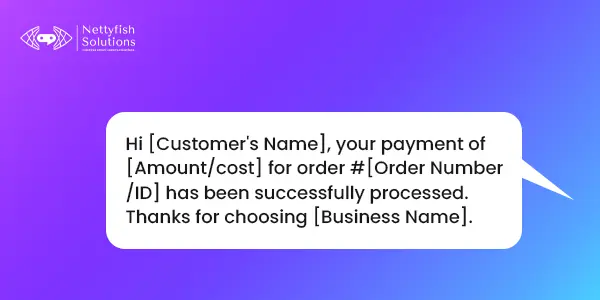 "Hi [Customer's Name], your payment of [Amount/cost] for order #[Order Number/ID] has been successfully processed. Thanks for choosing [Business Name]."
8. Shipping Details SMS Template
Keeping customers informed about their order's progress is essential for a seamless shopping experience.
"Great news! Your order #[Order Number/ID] has been shipped and is on its way. You can track your delivery using this link: [Tracking Link]."
9. Customer Service Message Template
An open-ended customer service template shows your commitment to customer satisfaction and encourages direct communication.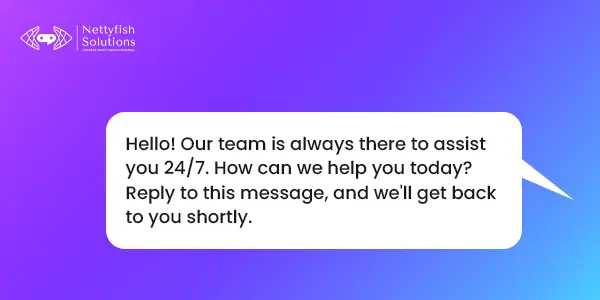 "Hello! Our team is always there to assist you 24/7. How can we help you today? Reply to this message, and we'll get back to you shortly."
10. Get Free SMS Template
Offering freebies is an excellent way to attract and engage customers. This template makes it easy for them to claim their freebies.
"Text 'FREE' to [Code/number] to get a free [Offers/Discounts/Products]. Don't miss out on this fantastic deal from [Business Name]."
Creating Effective Ready to Use SMS Templates
When creating best SMS templates, there are several factors to keep in mind to ensure they are both engaging and informative,
Conciseness –

 SMS messages have character limits, so keep your templates short and to the point.

Clarity –

Use clear language and avoid jargon or complex phrases. Ensure your message is easily understood.

Personalization –

 Whenever possible, personalize the message with the recipient's name or relevant details.

Call to Action –

 Encourage the recipient to take action, whether it's replying to the message, visiting a website, or making a purchase.

Relevance –

 Ensure that your message is relevant to the recipient and provides value.

Timeliness –

 Send messages at an appropriate time, considering the recipient's time zone and preferences.
Role of Nettyfish in SMS Marketing
As you explore these ready to use SMS template for your business reduce your time, it's essential to have a reliable platform for sending and managing your SMS campaigns. we are a leading player in the world of telecommunications, offers an array of services, including bulk SMS and SMS marketing. With a commitment to innovation and efficiency, Nettyfish empowers businesses to nurture valuable connections with customers and prospects.
Check this blog to get more detail about – Bulk SMS Service Help Your Business
Using Nettyfish's platform, you can easily customize and send these templates to your target audience. Their SMS services are designed to help you achieve your communication goals, whether it's introducing your business, providing customer service, sending promotions, or conducting surveys.
Conclusion
Ready to use SMS templates are powerful tools for businesses looking to streamline communication and engage with customers effectively. Whether it's an introduction message, appointment reminder, or promotional offer, the right template can make all the difference. You can enhance your business's communication strategy and provide a seamless experience for your customers.
Read Our Related Articles: